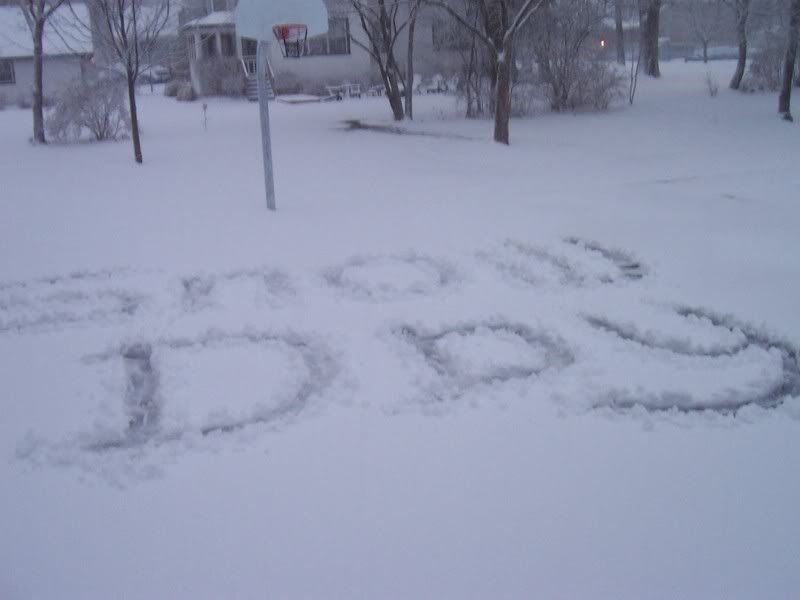 Ahh, the glorious feeling. You wake up in the morning and turn on the television to see names scrolling across the bottom of the screen. You watch in breathless anticipation…searching for your school. When you see it, it's wonderful. That feeling of respite. No school today! You turn off your alarm and roll over to snooze for a few more minutes. And you're not even a student….you're a parent.
It's a snow day. Or if you live in Dallas, an ice day. We have no idea how to drive on that stuff down here. Ice just bamboozles us Texans. Fearful of our driving skills, school administrators wisely close school house doors at the drop of a hat— or in this case, a slight freezing mist. It was somewhat unexpected for me this time. I hadn't been paying much attention to the weather reports.
But I must say the expression on my son's face was something I won't soon forget when he woke up and wandered into my office at 7:30 am. Normally I have him up quite a bit earlier.
"Mom, why didn't you get me up? I'm gonna be late for school."
I got to be the bearer of very glad tidings.
"School is cancelled."
First there was a look of disbelief, then pure joy, then a loud "Yes!" as he pumped the air with his fist, jumped up and down and even gave me a big hug and a smacking kiss on the cheek.
This is a surprise holiday. And you folks up north are laughing at me, I know. But we get snow and ice so infrequently, it's quite an event and perfectly okay to roll your eyes at our antics! Because I'm only talking about the one-day "happenings" (two max), not the horrific weeklong storms you have to endure or the huge mess that's sweeping across the midwest as I type.
I see snow so rarely, southern "snow days" are etched in my memory— making snow ice cream, snow angels, sledding, building the one snowman I've made in my lifetime. Since it's only misting ice instead of snow this time, we'll be inside most of the day. Sitting in front of the fire, we'll watch movies and hopefully play some board games. Probably eat junk food that's terrible for us. And I won't get much work done. By tomorrow my kids will be back in school.
I look forward to these days almost as much as my children do.
So what about you? What's your favorite "snow day" memory or what's your favorite thing to do on a "snow day" when you get to stay home?
Kay
KayThomas.net
BETTER THAN BULLETPROOF ~ in stores now!
4 ½ stars Romantic Times ~ 5 stars Cataromance
BULLETPROOF TEXAS ~ April 2009